Upcoming Community Events
February Monthly Meeting  6:00 to 8:00 PM
John Gargett, Deputy Director of the Whatcom Sheriff's Office - Division of Emergency Management, will speak on how the County is preparing to address a Mt. Baker eruption and the upcoming exercise taking place in October of this year.
2018 - We will be hearing from more experts on Mt. Baker, volcanoes, and how you may need to supplement your emergency kit in case of an eruption.
Updates
2nd Bi-Annual VMC Disaster Forum - March 2018
The VMC will be hosting "Living in the Shadow of an Active Volcano" at the Whatcom Middle School, 810 Halleck, Bellingham, WA on Saturday, March 24th, 2018 from 10:00 AM to 12:00 PM. Doors open at 9:00 AM.  While the event is free, you do need a ticket. Follow this link to reserve your seat.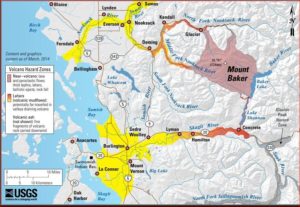 Contact whatcomvmc@gmail.com if you are interested in helping with Event coordination, publicity, logistics, etc.
We are sponsoring a CERT class for VMC members, if you are interested email whatcomvmc@gmail.com and put CERT in the subject line.
April 12 – May 5, 2018
6:00 - 9:00pm, 4 class sessions of 3 hours, weekly on Thursday
1:00 - 4:00pm, 4 class sessions of 3 hours, weekly on Saturday
Whatcom Unified Emergency Coordination Center
Google map link:  https://goo.gl/maps/5KWJ4rQkBMm
If you have a topic you'd like to present at the Core meeting (4th Monday of each Month), please contact us at WhatcomVMC@gmail.com 
Our Sponsors